The City within the City
A New Concept of multidimensional place that combines work, leisure and lifestyle……
unheard-of flexibility main street façades, multi-level internal access……
Diverse and optimistic architecture……
a contemporary urban village and aspirational art installation……
Centre of Attraction
Located on a major intersection
Highly visible site of more than 100 acres with 30 acres currently developed
In the heart of several established residential townships of middle to upper income groups
A New Concept
for Savvy Retailers
Unheard-of flexibility to create flagship stores from main street façades with multi-level internal access
Simple floor and street layouts
Excellent visibility
Wide walkways
Leafy pedestrian malls
Wide Market Catchment
2.7 million people within 15 minutes drive time
84% in top occupation categories – Wealthy achievers and urban prosperity
37% in the 25 – 44 age group – People with high spending power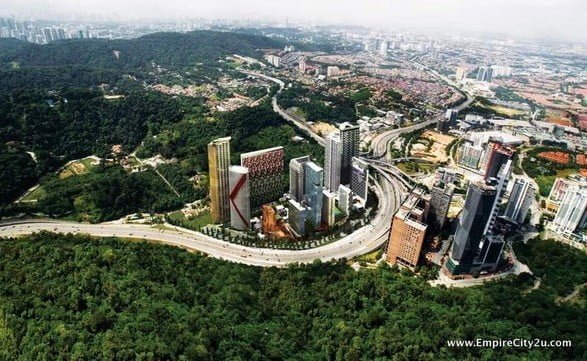 Why Invest in Empire City?
An Integrated development with 3 Hotels of International Standard
• 5 Star Marriot International Hotel
• 5+ Star Autograph International Boutique Hotel
• 5 Star Ritz-Carlton International Hotel

Foreseen to be the most sought-after MICE (Meeting, Incentive, Conference, Exhibition) destination – strategic location within PJ's business hub surrounded by great infrastructure and amenities.

Major attraction for corporate companies – convenience of holding corporate events /meetings (i.e. Marriot International Hotel's ballroom can accommodate up to 1,000pax, proposed 2,000pax for Ritz-Carlton International Hotel).